Day 1 = Basics
Day 2 = video abstractions
Day 3 = Audio +Sensor input in pd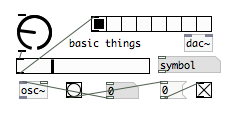 People attending day one will learn pd from the basics: background, installation, possibilities, connecting, editing, help, basic objects in pd, advanced objects, creating our own objects, interconnecting with other softwares/ laptops, osc, midi...
After this pd workshop, anyone will be able to understand how pd works and where to look for in order to construct your own audiovisual customized software.

In day 2, I will share my video manipulation objects that will reduce the patching time to the speed of light ; )
So, people attending day 2, will receive abstractions ready made to make video tracking, video mapping, reproduction of videos, use of webcam/webcams, use of images, and some other useful stuff for video manipulation.
Of course, the basics of Pd video/graphics library will be explained too. (but not the pd basics!).
People attending day 3 will be able to connect any kind of analog sensor into puredata (or also any other midi software) in order to control video or audio patches. we will use the inexpensive minitronics board (http://minitronics.net) that it's a plug&play / multiplatform sensor board ready to work with any system without need to program it or do anything else than plug it into the computer.. I will supply materials to made a first experiment with sensors.


Each one of this days can be attended independently.

the workshop price it's 20 eur for day 1 and 2 and 10 eur for day 3. the minitronics board used in day 3, + the example sensors can be purchased apart for 20 eur.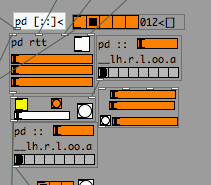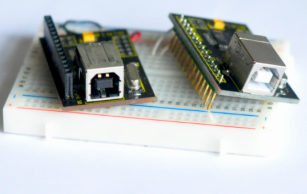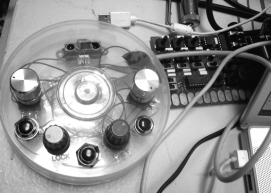 Clicking here, you can take a look to the program of a workshop I teached in the past in NK more focused in the use of sensors to make alternative music controllers

Space Requirements:

Tables, power sockets, chairs, projection surface..
wireless and projector are not "strictly" necessary but very recommended.
the number of people attending the workshop will also deppend on the capacity of the space.

Participants requirements:
Unless the space offers that possibility, It's necessary that every participant will bring it's own laptop. Windows/osX/Linux are ok .
you can already download puredata from puredata.info. I will bring anyway installers for all the platforms.
No prior knowledge it's needed for day 1 but It's strongly recommended at least a basic knowledge of pd for days 2&3.
About me:
I'm working with puredata since some years now and I have done several successful projects with it. Among them: Audio performances, Laser performances, converting a telex machine into a musical instrument, Interactive audiovisual systems, video mapping projections, Vj sessions and all kind of experiments with sensors.. The fact that puredata It's opensource, makes it perfect to teach, great to share and infinitely expandable..

In the past, I contributed into writting two chapters of this excellent free puredata manual flossmanuals.net/puredata/ that nowadays It comes even referenced in the latest versions of puredata itself..
If you are in Berlin, you can join the puredata users meeting.
It's free & nice

going to http://servando.hotglue.me/ you will be able to see some of my works, mostly done with puredata.
Hope to meet you in the workshop ; )
Ser

Home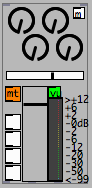 what is puredata?
Pd-Berlin User meeting