Here you can have an overview about some interactive installations I have done.



Home <-
Stoerung (2011)
It's a recycled computer that doesn't have hard-disk but it's able to feel when somebody touches it.

While in standby, stoerung analyzes the reality and shows a visual outcome based on objects that are in movement. when you push it, you will generate a glitch in the image and the audio.
Attitudes (2010)
it's the radically interactive Audiovisual installation. In absence of audience, screen remains black and speakers remain silent..
Once you are in front of it, all the action will start.. you will be able to interact with yourself, with others or with the computer. the audiovisual outcome of the installation will be absolutely proportional to the real activity in front of it. chb/hbc/leap/normal...
Dialogues (2009) Amaze / club transmediale
it's an interactive installation where the interaction happens between the people and the computer becames just a tool for "augmented interaction"..

This installation invites the people to "play" and start a "non verbal communication" with the people that stays in the other side of the "Wall".

The one that moves the more will get more protagonism in the composition.

Pure Data mapping (nov 2011)

Architectural outdoor video mapping realized during piksel festival in Bergen (Norway) with the free software pure data.

60´s picnic turntable
Ubuntu 10.04 (Lucid Lynx)
Ibm Thinkpad X60
spray paint
diverse donated vinlyl discs
15" flatscreen
wood.
Byron microcontroller
Ldr´s
white le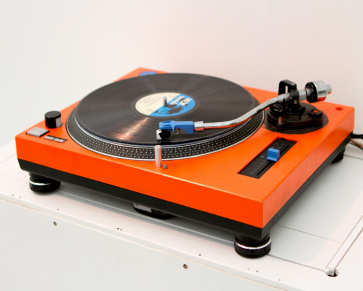 the "Autistic Turntable" it's an interactive installation that uses the energy produced by the audience to turn the platter and produce the sound.

--Click here to go to the page---



_____
Telex-->music machine